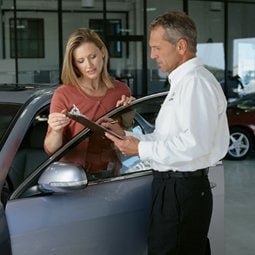 The Best Ford Service Center in Connellsville, PA
All Ford models need an in-depth service checkup regularly as a proper car maintenance routine. Regular service aids in detecting a developing problem that can be costly. We at Meegan Ford have the best Ford service center around Connellsville, PA, with unmatched precision and detail to quality ensuring effective and efficient care for your automobile.
Our top-rated certified artisans will get your car back on the road in no time, running at its optimum as if it were new.  We are gurus when it comes to quality Ford service. It does not matter whether the repairs needed are mega or straightforward; our team of experts gets it done in record time.
Let's give you a glimpse of quality ford service.
Oil Service
Getting an oil service may sound simple, but it is an essential step. Your car's engine needs to operate effectively. To do this, you'll need to come to Meegan Ford for a ford oil service after covering around 3,000 miles. We'll make sure to use the correct oil for your car, and it has to be clean to avoid engine damage and maximize vehicle performance.
Brake Service
It is mandatory to do a brake service regularly for your safety while driving. When you notice abnormalities with the functionality of your brakes, such as being hard to press or shaky, do not hesitate to visit us in Connellsville for a checkup.
Battery service
When you notice that your engine is taking longer than usual to start, your check battery alert is on, or a sudden sulfur smell. It's time for a battery service at Meegan Ford.
Tire Service
The quality of tires on your Ford makes a considerable driving experience. Always rotate your tires regularly for maximum benefit and even wear and tear.
Wheel Alignment Service
An imperfect wheel alignment will cause your vehicle to pull more on one side than the other, shake your steering wheel, and give you an uncomfortable drive. If you notice one or both of these systems, visit our Meegan Ford service center for a state-of-the-art wheel alignment service.
When it comes to keeping your Ford running, the service team at Meegan Ford ensures your Ford gets genuine Ford parts every time, so you know they will last. When the time comes for a little routine or emergency maintenance, call the team in Connellsville, PA, and we'll take care of you and your Ford.