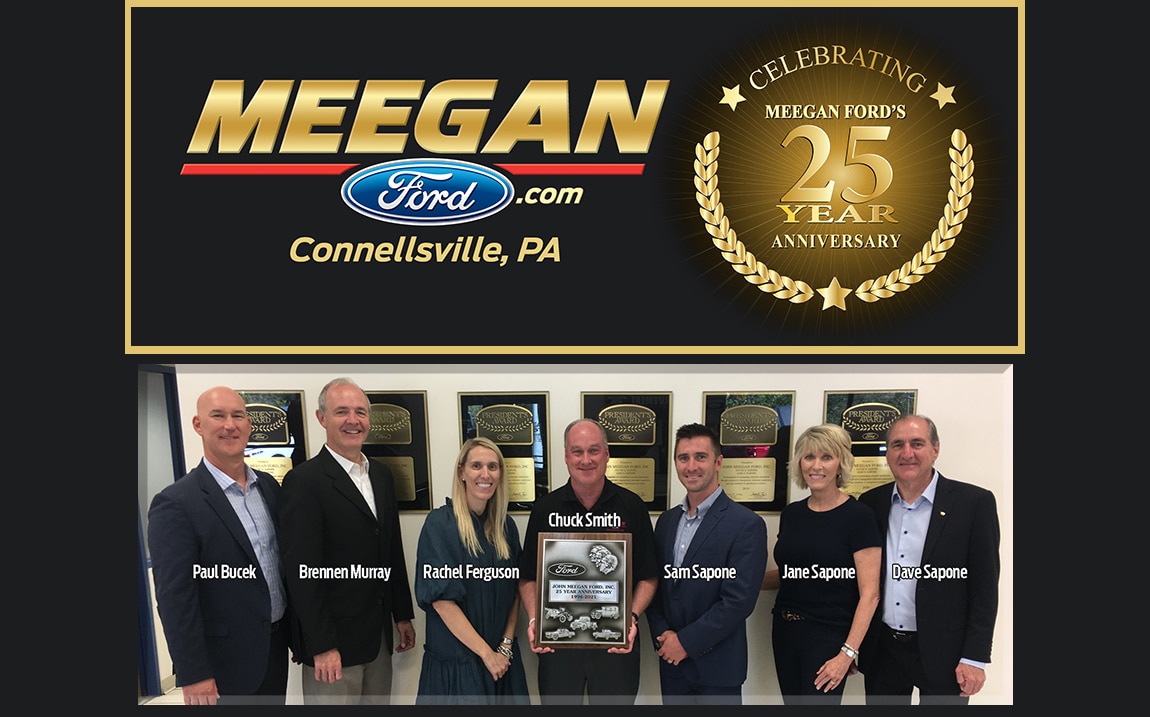 MEEGAN FORD CELEBRATES 25 YEARS IN BUSINESS
You know what they say... Time sure flies when you're having fun!  That is obviously true says Dave Sapone, owner
of the Meegan Ford operations in Connellsville and Mt. Pleasant.  "It just seems like yesterday, not 25 years ago,
that the family bought Meegan Ford of Mt. Pleasant.  Everything was going great until the construction of the new
4 lane version of Route 119 turned our road into a dead end."  This presented the dealership with somewhat
of a challenge acquiring and retaining new customers, but their focus on providing great service and new
vehicle pricing kept them quietly moving forward while growing their business.
Most every business experiences the ups and downs but in the case of Meegan Ford it was mainly up.  Over the
years they have received many awards, the most important of which is the Ford President's Award.  The company
has received this award 6X now and working hard to repeat it again this year.  This honor is given to a very select few
Ford Dealers in the nation for achieving outstanding scores in the areas of Sales and Customer Service Satisfaction.
With the acquisition of the former Davies Ford location in Connellsville in 2018, Meegan Ford's customers and
market area has grown nearly 3X in size.  The additional acreage on the property also gave Meegan Ford the
opportunity to build it's Commercial Vehicle Center into one of the largest in Western PA.  Once they moved into the
new location, the company changed the focus of the original location in Mt. Pleasant strictly to Service and a
state-of-the-art Collision Center.  No service or collision repair needs are too large for them to handle and
they have close relationships with most every major insurance company.
When asked about the current economic and health concerns, Jane Sapone said "We're in it for the long haul.
Our motto is building relationships that last a lifetime and we're very serious about doing whatever it takes to
meet and exceed the desires of our customers.  We're confident that things can only get better, and Ford has an
outstanding new line-up of models that are being released now or in the very near future.  After having achieved
our first 25 year milestone, we're anxious to see where we are when we receive our 50th Anniversary plaque
from Ford.  We always say that the cars are flying off our lots and in 2046 that might seriously be the case."
Shown above (from left to right) awarding the plaque at Tuesday's ceremony are Paul Bucek - Ford Pittsburgh
Regional Manager, Brennen Murray - Ford Pittsburgh Region Market Rep Manager, Rachel Ferguson,
Chuck Smith, Sam Sapone, Jane Sapone and Dave Sapone from Meegan Ford.