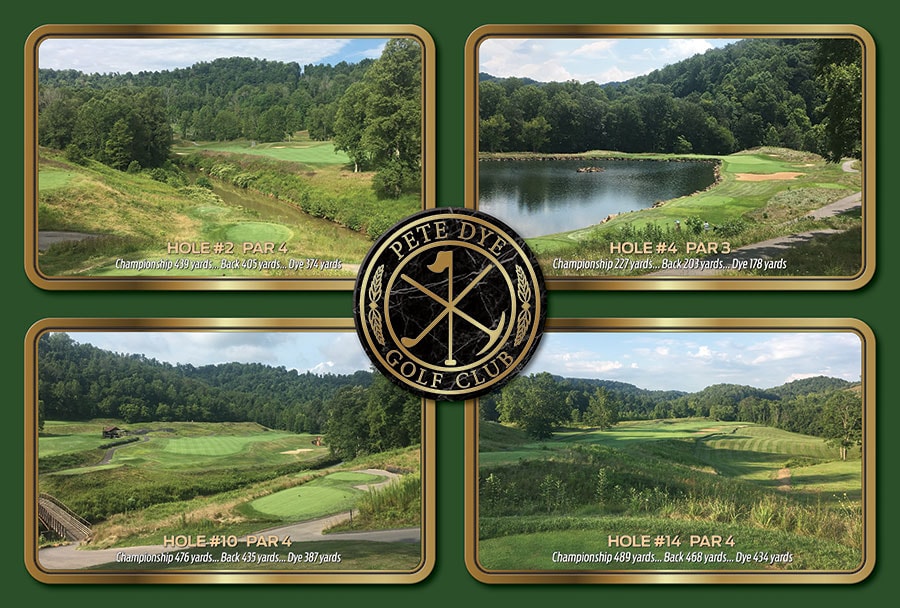 You're Invited to our 3rd Annual
PA PLAYERS INVITATIONAL
SATURDAY, SEPTEMBER 18th
Tee Times Begin Around Noon
Sign up yourself or bring a foursome!  To reserve
your spot(s) 
send names via email to:
$150/player  Prizes to be
awarded for Closest 
to the Pins
on all 4 of 
the Par 3s...
Longest Putt on #18
NOTE: THE CLUB DOES
NOT TAKE CASH -
CREDIT CARDS ONLY
For those of you that have an established and verifiable GHIN handicap
at another club... You may enter our Net and/or Gross Skins Game.
Simply inform the Pro Shop if you wish to participate when you arrive.
I am really excited to see the reactions of those of us who have never experienced this golf course before!  I fell in love with this track about 25 years ago and still get pumped up just thinking about playing it.  You'll find that each and every hole has something different to offer in the form of challenges and visual uniqueness.  A little later I will outline some of my favorite highlights of different holes.  Hopefully... the weather will be great and I am expecting everyone to have a great day to remember!
DIRECTIONS FROM CONNELLSVILLE & GREENSBURG:
It should take around 1 hour and 15-20 minutes driving time from Pleasant Valley in Connellsville and about 1 hour and 35-40 minutes from Greensburg.  If you're traveling north on 79... simply take Exit 121 and follow the same directions 4-7 below.
1)  Take 119 South beyond Uniontown
2)  Get on 43 (Toll Road) and travel to 68 toward Morgantown
3)  Continue on 68 West and take the 79 South ramp to your left
4)  Stay on 79S or N until Exit 121 - Meadowbrook Mall and make a right at the bottom of the ramp
5)  Once on Meadowbrook Road get into the left lane and continue on 4 lane until it turns to 2 lanes-2.7miles The speed limit is 50 and I suggest that you respect it. 
6)  When the road turns into 2 lanes slow down and look for a tiny white church on your left
7)  Turn left onto Aaron Smith Drive in front of this church and you are here!

This is the entrance that will appear before you.  I will be arriving early and ask that they open the gate for us.  If the gate happens to be locked... there is a system built into the center stone column that you can call the pro shop and tell them that you are with my group.
UPON YOUR ARRIVAL:
The Pete Dye Club has a Valet Parking Service.  You may stop at the club house entrance and remove your clubs and utilize the Valet Service... or you can go to park your vehicle and then return for your clubs after checking in and being given a cart.
If you choose to arrive early... the club has a nice practice range and putting green to sharpen your skills for the day.  The cost to play the course is $150 per player and just a heads up... the course requires payment with credit cards and does not keep much change (if any) on hand.  There is a nice outdoor bar / halfway house called Pete's Place that overlooks the water and our putting green.  While you are here make sure that you check out our dining room that has an awesome view of the back nine.  The Pro Shop will remain open until about 7PM and Pete's Place should be open till dark or when our guests are no longer thirsty.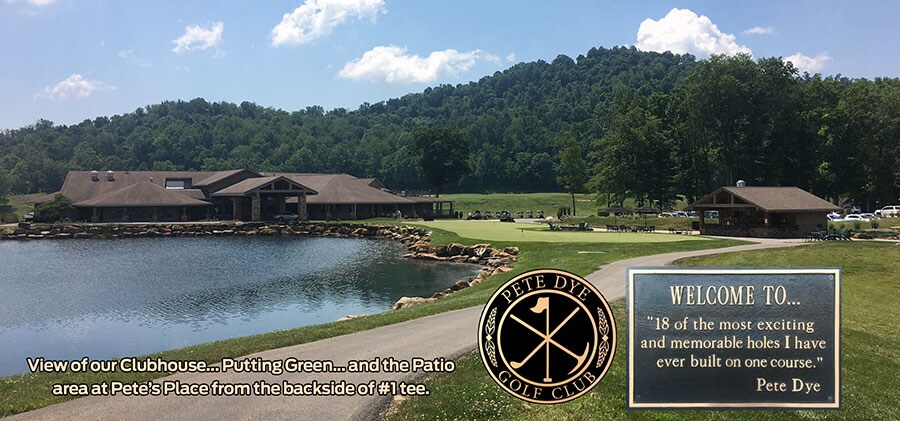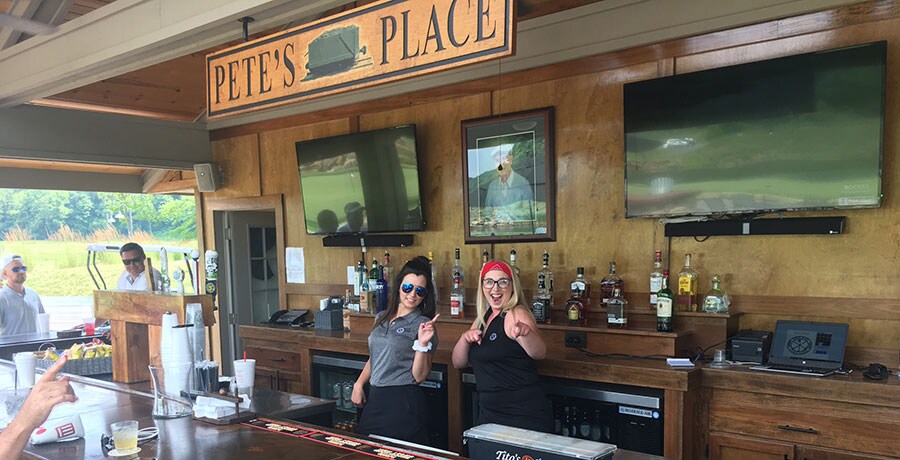 COURSE HIGHLIGHTS TO WATCH FOR:
Although every hole is unique... certain holes have features
that I would like for you to watch for and notice:
#1  A nice par 4 starting hole -  stay to the right on your drive to avoid the traps
#2  #1 handicap hole on the front which makes you ask the question "how big are they"?  It has been ranked 
as one of the top 500 golf holes in the world and can be quite a challenge.  Men:  Aim for the traps - 
maybe even the right one!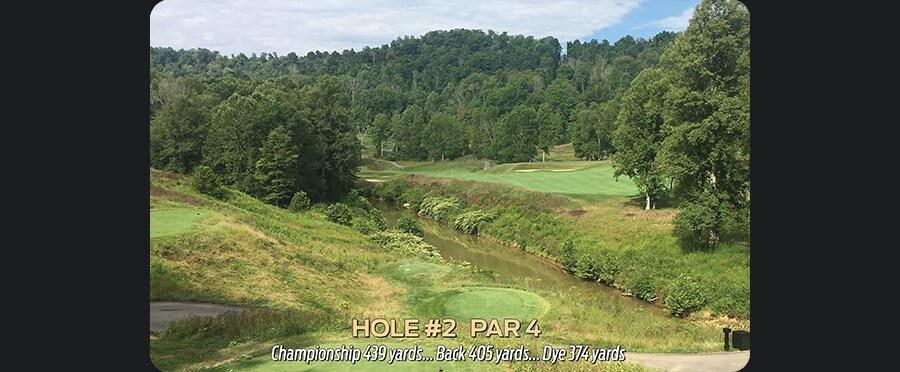 #3  Slight dogleg right with a very tricky green that has some tough pin locations
#4 
Shown in the picture below
... this is an amazing par 3 with a boomerang shaped green that is guarded by 
water.  Depending on the pin location, taking the safe route to the right front could save you some strokes.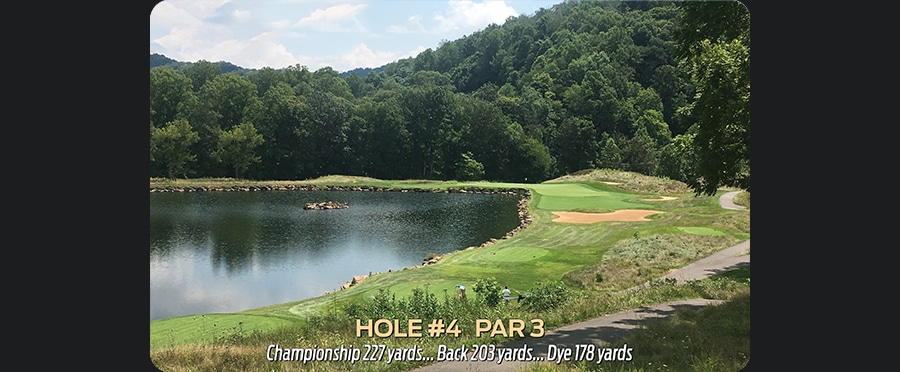 Another thing to notice that I find to be incredibly humorous is that if you look in the water above, you will see a rock island.  This rock island has a mailbox on it.  For years I could tell that something was written on the mailbox and I only found out what it said just recently.
"SUGGESTION BOX"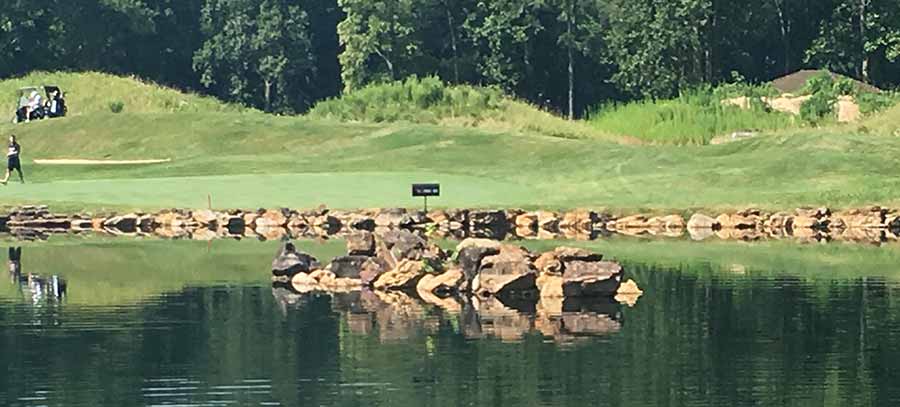 Stop and feed the fish and turtles!

So right after this par 3 you will follow the path along the side of this pond that is absolutely filled with fish and turtles.  Stop and take a scoop of the food that is in the wooden container and watch these guys come to the surface and eat.  When you think about it... the reason why they grow to be so large is because they get fed every 15 minutes - just about each time a group comes by.
#5  What appears to be a wide open par 5 turns into a tricky multi-level dogleg right challenge that is guarded by 
fescue and a cliff that falls into the water to the right.  Beware of hitting your approach on the left side 
of 
the green because the green slopes drastically to the left into a catch area.
#6  Framed by a hillside to the right and a rusty looking stone walled creek to the left that flows the same no matter
what  
the weather conditions are.  This is because the water originates in the mine that you will soon be introduced to. Immediately 
following putting on this green you will have the opportunity to drive your cart through an old coal mine. 
The temperature feels like it drops 10-20 degrees and is sometimes a much welcomed cooling off period.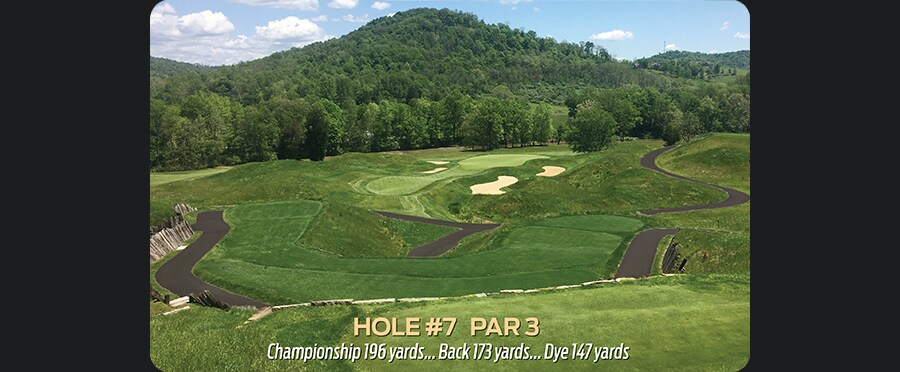 #7   Shown above is number 7... a par 3 with multiple tee boxes.  If you look at the middle of this photo you will see where your cart will be emerging from the mine.  Danger lies behind and all around this green.
#8    An interesting par 5 with a natural rock wall that spans for half the hole with a huge waste bunker lying below.  Try to avoid this area by aiming left for your second shot.  Everything falls to the right.
#9    Number 9 is a par 4 that is one of the toughest par 4s that I have ever played.  Long ball hitters can fly the "valley of ignorance" to the right but the safest play is to keep left and find the fairway.
#10    Eight tee boxes to choose from on this amazing par 4.  Once you are on the green... listen close and
you will hear the water coming from the mine running beneath the putting surface before it emerges to create the waterfall to the right.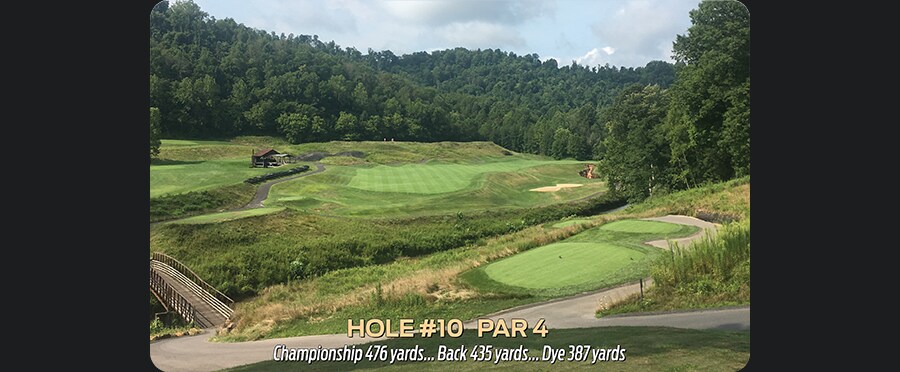 #11    A long par 5 with an elevated green and another valley to the left that you will want to avoid.  The rough is typically very deep and will give you anything but a flat lie.  Your aim point is the bunkers that you will see on the right.  Believe me... even very few tour players are likely to reach the bunkers.
#12    A dogleg left par 4 that has a huge pot bunker in the middle... just before the hole takes a left hand turn.  Big hitters have the 
opportunity to drive this hole occasionally.
#13    A nice par 3 with several tee boxes gives this hole a variety of ways to play.
#14    A par 4 that reminds me of a scene from the Civil War at Gettysburg with it's rock walls bordering the hole.  Your aim point is in the left side of the fairway so that you avoid the bunkers on the right.  NOTE: The property on the right is now marked as out of bounds.  The only other hole with white stakes is on the right side of number 9.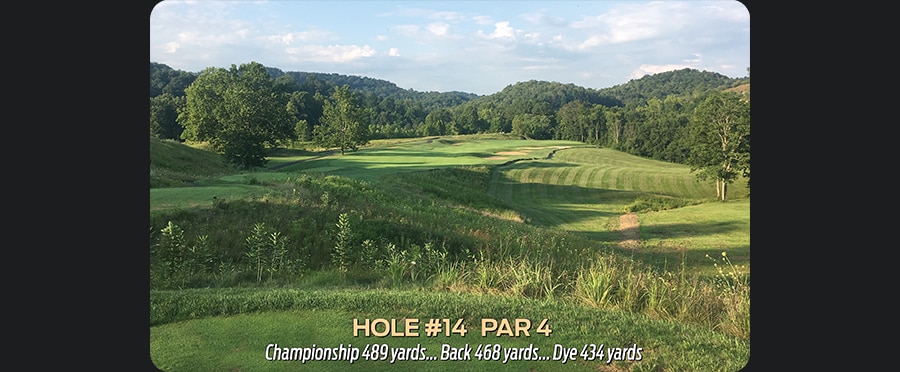 #15    A very challenging long par 5 with water on your right for almost the entire length of the hole.
#16    A par 3 with a very challenging green to operate on.  The deep bunkers to the right make it necessary to favor a shot toward the left off the green.
#17    A par 4 that you want to stay right on your drive.  Big hitters can clear the bunkers on the left and land 
in a catch area just below the green.  But beware of hitting your second shot a bit short because you are
likely to roll off the front, back down into this catch area.  Make sure you choose enough club on
your 
second shot so you can land in the middle of the green.  The joke is that Pete Dye buried three 
elephants beneath this green which is the most outrageous putting surface that I am aware of 
anywhere.  The hole even has a windmill to the left.  The only thing it is missing is the clown's mouth.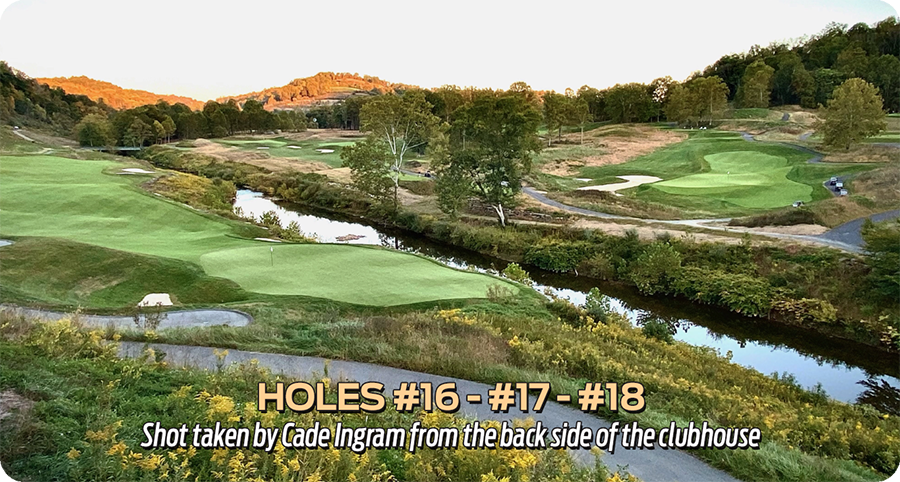 #18    
One of the finest finishing holes that you'll find anywhere.  A tee shot that you have to check the size of them again... 
you definitely want to avoid the water and rock wall on your left.  All of this with a slight dogleg left and a blind second shot.  Depending on the time of year and conditions... you may need to load your cannon to reach this green in 2. 
HOPE TO SEE YOU THERE!